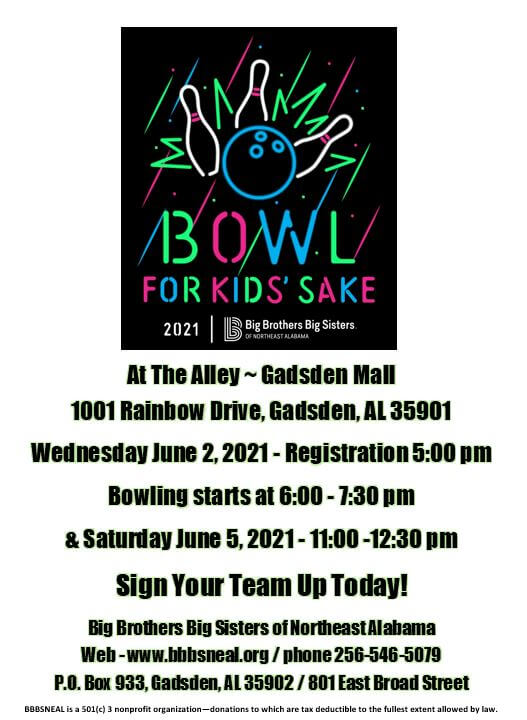 It's time again for the annual Bowl for Kids' Sake Fundraiser!  Bowl for Kids' Sake is the largest national fundraising campaign for Big Brothers Big Sisters.  Each year, more than a half million people participate in BFKS supporting our quality mentoring programs. Big Brothers Big Sisters provides children facing adversity with staff-supported, long-term one-to-one mentoring friendships. We need your help and support to make this event a success. Bowl for Kids' Sake brings the community together in support of a positive future for our kids
All profits from Bowl for Kids' Sake tournament support and our local community based matches. In closing, we hope you will provide team and sponsorship support of our tournament during this time when recreation and enjoyment are needed diversions for everyone.  Be assured that we, along with The Alley, plan to follow the CDC and state guidelines for social distancing, best practices with protective wear, and sanitation procedures to prevent the spread of Coronavirus. Thank you for your consideration of the Bowl for Kids' Sake tournament.
To join Bowl for Kids' Sake 2021, simply click on the link below, mail the accompanying form, or call the local Big Brothers Big Sisters office at 256-546-5079, or email us at valerie@bbbsneal.org.  So mark your calendar for Wednesday, June 2 or Saturday, June 5, 2021 for Bowl for Kids' Sake, at The Alley, Gadsden Mall.